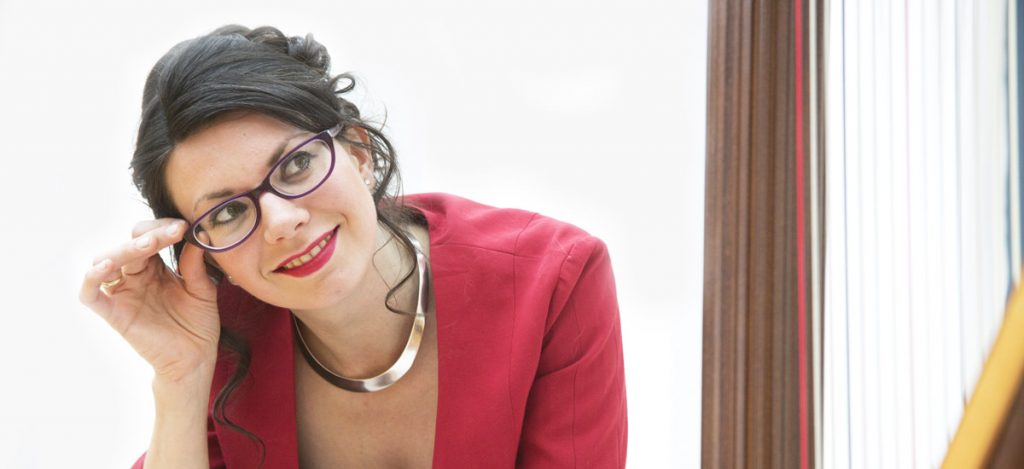 HARP LESSONS IN BIELEFELD
As a harpist who graduated from the University of music of Detmold, Germany, I offer beginner harp lessons from the age of five, as for advanced students of all ages, on Celtic harp, on single-movement harp or on double-movement harp.
The following additional courses enrich my lessons: singing, solmisation, auditory memory, mental training, my master's degree in musicology for which I obtained a "very good" rating, a course on stage presence, musical physiology, Breathing of the musician, body percussion and technique of Alexander.
In addition to my long professional teaching experience, which dates back to 1998, I offer my competence as a former harp professor both in music school and in conservatory.
Two celtic harps as well as a double movement harp are at your disposal in my classroom.
I care about the wishes of my students, whether they want to play classical, Celtic music, film music, jazz, or sing along with the harp themselves (the song was my second Instrument during my studies), or to do chamber music or to play with orchestra.
My goal is that each student enjoys playing the harp, that he feels well and that he can realize his dream of playing this fascinating instrument. I take time to teach how to change strings, realize the knots of strings and how to tune a harp. Using my magical instructions, I make the play technique accessible, the motor skills, as well as the learning of notes and rhythm controllable, because I asked myself many questions to be able to find solutions to the problems encountered by my students.
However, daily training is necessary! And, without technique, we cannot progress!
The advantages of my private harp classes are my flexibility, as far as I can, as well as the familiar atmosphere. You can take classes every two weeks only.
My "Two in One": I can teach in German or French; Which allows you to combine a harp lesson with a French lesson!
I organize an optional in-class classroom hearing and a second public hearing. (See the "Concerts" chapter for dates).
I rejoice in your interest!
STUDENTS' TESTIMONIAL
« I started the harp at the age of 50. That's why I'm glad that Lydie Römisch adapts in an individual and flexible way to my learning pace, my musical preferences and my availabilities. It proceeds in a systematic and patient way and skillfully combines technical details with the musical work of the pieces, thus letting me discover the diversity that this instrument offers. »
B. Hofmann
« Lydie Roemisch sincerely cares about the wishes of her students, without neglecting the pedagogical aspect. This allows to make progress, using rhythmic, dissonant, modern or classical pieces.
She involves her students in the choice of pieces and I could choose which piece will be the new challenge.
The regular and very well organized auditions motivate the personal will to progress: we overcome our fears during each hearing and we take more assurance while keeping a certain thrill.
Mrs Römisch is relatively flexible for her courses, in regards to the organization (which is of great benefit to the working people who work) but also to the content of the course. For example, when you feel blocked, she always has an exercise that allows you to come down and make music.
When we have the will to learn this instrument, Lydie Römisch helps us to progress.
I felt for many years in very good hands, and it is unfortunately only because of my move that I could not take lessons with her. »
Rhea Künkele
« I have always enjoyed my lessons with Lydie Römisch. She has always respected my musical choices and made me enjoy the practice of the harp in a way totally different from my former teacher by putting forward the pleasure of making music and playing the harp. Her patience, openness and friendliness have always put me in a pleasant and relaxed atmosphere. Particularly thanks to the internal auditions, the students got to know each other and exchange interesting discussions. Moreover, this made it possible to prepare for public hearing. »
D.P.