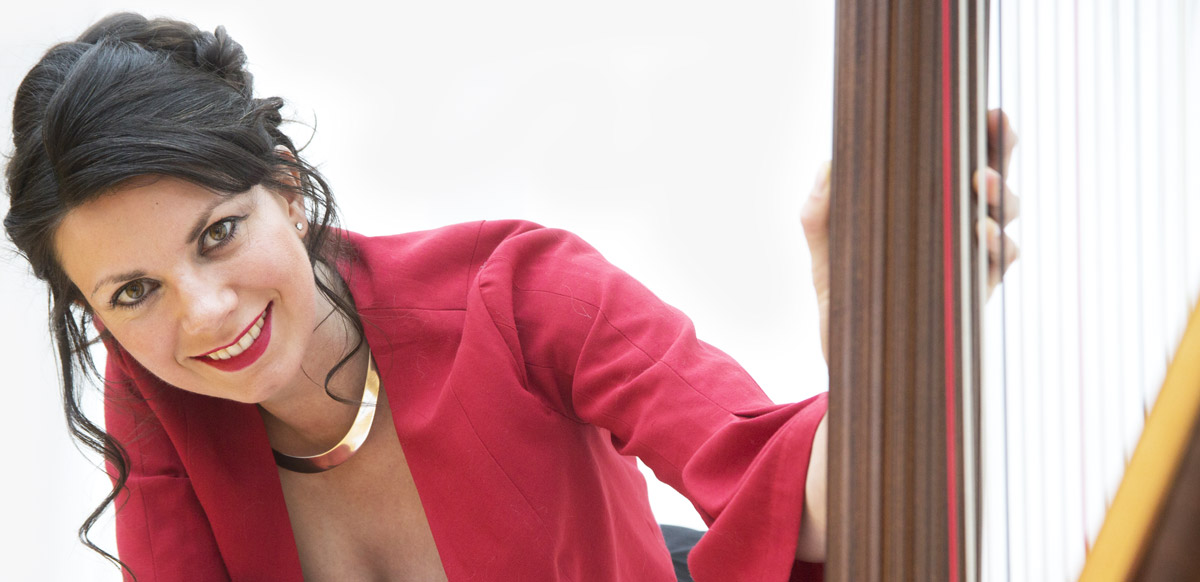 Lydie Römisch, born in France, started the harp directly at the age of eight with the current assistant of the University of music of Paris, Geneviève Létang-Gintzburger. Since then she has earned an equivalent degree to DE for teaching and an orchestral diploma at the University of music of Detmold, Germany in the class of Godelieve Schrama. Masterclasses with eight world-renowned harpists, including Isabelle Moretti, Jana Boušková, Maria Graf, Gaëlle Vandernoot and Alice Giles have expanded her knowledge.
Lydie Römisch was rewarded for her musicality by several prizes, notably in 2021 by the artist prize of Sparkasse, in 2003 by the prize of professors and the public of the Conservatoire National de Région of Saint-Étienne. Scholarship holder of the OWL-Studienfonds program, she was also awarded a prize at the international UFAM competition as well as the "Verband Der Harfenisten in Deutschland" competition in the oldest category and was specially awarded the prize for the best orchestral traits.
She won a competition for the position of solo harpist of the Bielefeld Philharmonic Orchestra for a fixed period. As a soloist with orchestra, she has with the chamber orchestra Amadeus, including the soloists of the orchestras of Dortmund and Düsseldorf. "This virtuoso musician" was played by several festivals, bevor the President of Germany Frank-Walter Steinmeier and by the Ministry of Culture of Saxony-Anhalt.
She is particularly interested in chamber music and teaching. Since 2017 she is a harp teacher at the music school of Gütersloh. Since 2011 she has been the harpist of the ensemble Tutti Romani and for four years has been a member of the modern music ensemble Horizonte, with which she was the first to record plays on German radio in Cologne as well as on radio Bremo at WERGO and accompanied the famous singer Gerhild Romberger. Since May 2014, she has founded a duet with Irina Shilina of cymbalum and harp, which performed at the Alten Oper in Frankfurt.
She performs both in Germany and abroad, and has already been broadcasted on different radio stations. She also performed in the chamber music room of the Berlin Philharmonic in 2013. 
A committed musician, she organizes a charity concert every year.
References
Prof. Dr. Jan-Hendrik Olbertz, former culture minister of Saxony Anhalt, former president of the Humbolt University of Berlin, said "I always enjoy hearing you playing".
Thomas Clamor, former trumpet player of Berlin Philharmonic, conductor of Sächsischen Bläserphilharmonie, artistic director of Deutschen Bläserakademie, professor at the conservatoire of Shanghai, Federal Cross of Merit, said about my performance under his orchestra conduction: "I know I can rely on you" !